Redefining Charity Campaigns with Immersive Experiences
"With one voice" in Decentraland is a new installment of the campaign implemented by ADSHARES for the Open Cages Association under the supervision of the Labcon agency.
What is the role of immersive experiences in the conversion process? What can blockchain bring to charity campaigns?
In the case of social campaigns - a virtual experience can help the recipient really feel on their own the problem the client is trying to deal with.
In the case of the "One Voice" campaign - that problem is the industrial breeding of animals in cages. And the solution - to sign a petition to the Minister of Environment. The way - is to move the "With One Voice" campaign to a virtual space, where users could personally talk to animals, learn about their stories and suffering.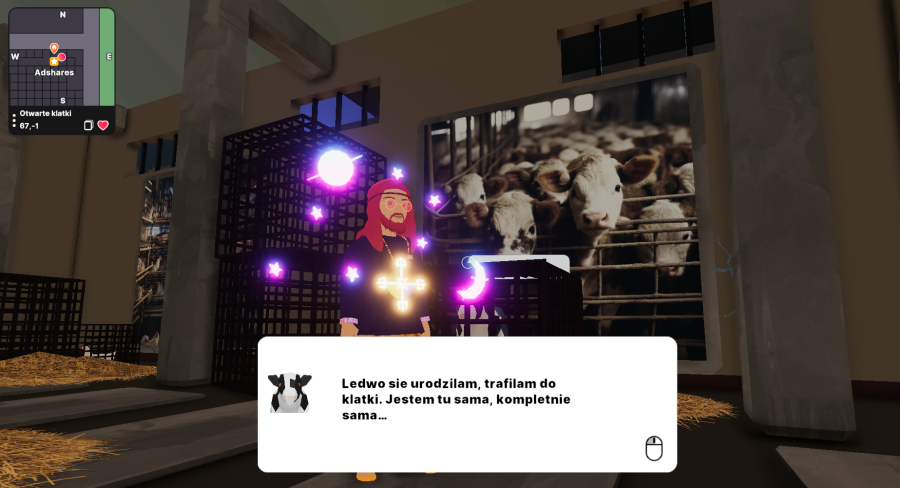 Decentraland is a virtual world based on blockchain technology, where users can interact with virtual spaces that are created by content creators. This time, the technology was used for the noble cause of supporting the Open Cages Association in their mission to improve the lives of animals in need.
ADSHARES, the creative and Metaverse service unit of ADSHARES, is responsible for planning and execution of the Experience. The Web3ADS team has:
designed the concpt, gameplay and UX
designed the 3D "Farm"
created animal NPC and progrmmed their dialogues
created a wearable for users to show support
expanded the client's "traditional digital" campaign into our own Decentraland ad network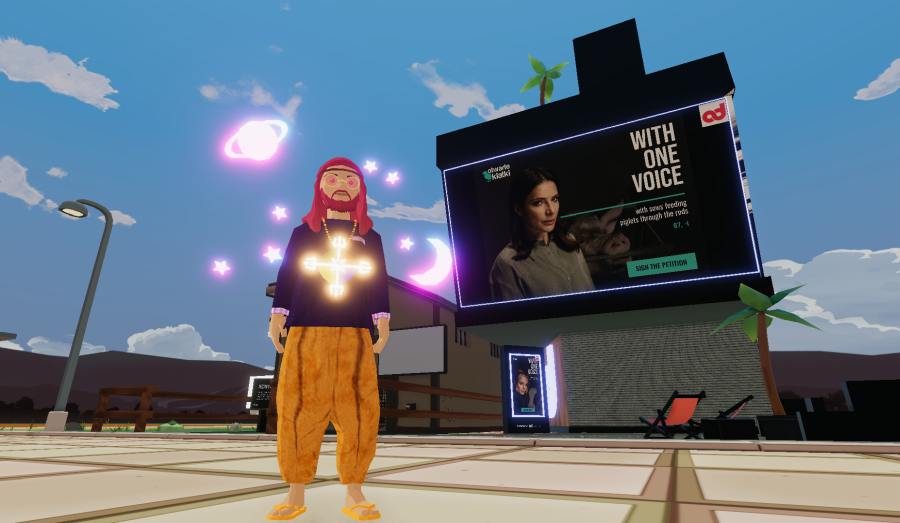 Decentraland's virtual environment allows it to reach a global community, enabling engaging interactions and reaching a new niche of consumers - Web3 users. This gives the Open Cages Association a chance to reach even more people, who together can contribute to improving the lives of animals in distress.
Still, we are just experimenting with the possibilities of immersive experiences. Metaverse is a young and emerging environment, but we strongly believe that the era of immersive is coming, of enriching the consumer path with experiences that change our decisions. And we intend to be ready when it arrives.
As part of the virtual activation, players can visit a grim industrial farm, where they will learn about the suffering that animals raised in cages undergo.
Each of the animals (a chicken, a pig, a cow and a rabbit) tells their story and asks them to sign a petition on the website one-voice.co.uk.
LABCON/GroupOne - the agency has gained recognition in the market as an advanced interactive agency, offering a wide range of services in digital marketing, creative design, programming, as well as multimedia production.